Getting #BeyondSleepy in Chicago
Saturday, October 19, 2019
10:00am - 3:00pm | $25
CHICAGO: HF Educational Meeting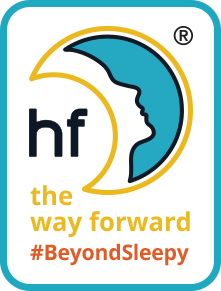 The Hypersomnia Foundation is holding a Patient Education Meeting on Saturday, October 19th in Chicago at the Sheraton Suites O'Hare Hotel, from 10:00 a.m. – 3:00 p.m. Tickets are $25 and includes a buffet lunch.
Registered event attendees are invited to attend a free Meet & Greet socializing hour planned for Friday, October 18 at 5:30 p.m. at the venue hotel.
There are a limited block of rooms at the Sheraton Suites O'Hare Hotel at the rate of $115/night. This rate will be available both Friday, October 18th and Saturday, October 19th.
Scheduled speakers include:
Dr. David B. Rye of Emory University will participate in a Q&A session on Hypersomnolence Sleep Disorders: IH, narcolepsy and Kleine-Levin; moderated by Hypersomnia Foundation Board member Betsy Ashcraft.
Dr. Thien Thanh Dang-Vu of the Concordia University (Montreal) will present his recently published study: Beyond Sleepy: Structural and Functional Changes of the Default-Mode Network in Idiopathic Hypersomnia.
Dr. David Plante of the University of Wisconsin will discuss his recently published study Hypersomnolence and Depression.
Sarah Beazley, Hypersomnia Foundation Board Member, patient advocate and former nurse, will hold an interactive workshop on Effective Self-Advocacy: Getting Your Best Care for people with IH and related sleep disorders.
Amy Desmarais, Hypersomnia Foundation Board Member, will share her personal story: The Journey of Living with a Rare Sleep Disorder.
Rebecca King, Hypersomnia Foundation's new Legislative Advocate and Board member, will share her advocacy efforts in Washington, D.C. and at the National Institute of Health in Bethesda, where she has worked for increased funding for sleep disorder research.
This event will be similar to our Seattle Education Meeting, which was held in June.