#BeyondSleepySatellite - Together in Salt Lake City
Saturday, March 4, 2023
$0 - $25
VIRTUAL and IN-PERSON – Salt Lake City, UT – #BeyondSleepySatellite HF Conference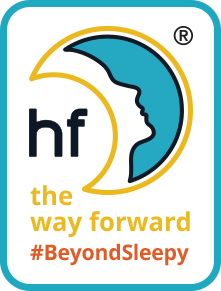 The Hypersomnia Foundation is hosting a series of one-day hybrid conferences (in-person and virtual) throughout the United States in 2023. Our first #BeyondSleepySatellite hybrid event is March 4th from 10:00 a.m.-4:00 p.m. (MST) in Salt Lake City at the Sheraton Salt Lake City Hotel.
Registration for #BeyondSleepySatellite – Together in Salt Lake City is $25 for in-person attendees and FREE for virtual attendees.
AGENDA and SPEAKER BIOS
10:00-10:30 AM – Welcome, Introductions, and Icebreaker with Claire Wylds-Wright, HF CEO
10:30-11:15 AM – "Hypersomnia: Assessment and Management," presented by Dr. Chris Hammond
Dr. Hammond is from the Ogden Clinic in Utah. He is dual board-certified in Neurology and Sleep Medicine whose professional interests include sleep disorders, such as sleep apnea and narcolepsy, multiple sclerosis, peripheral nerve diseases, and epilepsy. Dr. Hammond and his Sleep Lab are certified by the Accreditation Commission for Healthcare.
11:15 AM – 12:00 PM – "Idiopathic Hypersomnia and Social Security Disability: What You Need to Know," presented by Anjel Burgess, JD
Anjel Burjess, JD is an attorney specializing in Social Security Disability Law for adults and children, Veterans Disability, and Guardianships. She is a member of the Hypersomnia Foundation Board of Directors and has been a featured speaker for several HF events, other organizations, support groups, and the local bar association.
12:00-1:00 PM – LUNCH
1:00-1:45 PM – "Game of Life," presented by Rebecca King
Rebecca King has been diagnosed with idiopathic hypersomnia/narcolepsy type 2. She is a member of the Hypersomnia Foundation Board of Directors and currently serves as the Board Secretary. Her main focus is advocating for hypersomnia research, access and affordability of medical care and prescription medications, and increasing the understanding of hypersomnias.
1:45-2:30 PM – "Living with Idiopathic Hypersomnia," presented by Amy Desmarais
Amy Desmarais is a long-time supporter of and volunteer for the Hypersomnia Foundation and currently serves as the organization's Treasurer/Chief Financial Officer. She will talk about her experience of living with IH and successfully managing her professional, personal, and family life.
2:30-2:45 PM – BREAK
2:45-3:30 PM – Panel Discussion
3:30-4:00 PM – Recap and Closing Remarks, Claire Wylds-Wright, HF CEO
For those travelling to Salt Lake City, we have reserved a block of rooms at the Sheraton. Reserve your room today!