#BeyondSleepySatellite - Together in Philadelphia
Saturday, September 23, 2023
10:00am - 3:00pm ET | $0 - $20
VIRTUAL and IN-PERSON – Philadelphia, PA – #BeyondSleepySatellite HF Conference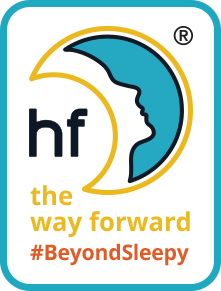 The Hypersomnia Foundation is hosting a series of one-day hybrid conferences throughout the United States, providing a wonderful opportunity to connect with others living life with a sleep disorder. Our next #BeyondSleepySatellite event is in Philadelphia on Saturday, September 23, 2023 from 10:00 a.m. to 3:00 p.m. (ET) at the Delta Hotel by Marriott / Philadelphia Airport, third floor Ballroom.
The day kicks-off with a 9:00 a.m. breakfast before heading into a day of presentations, breakout sessions, ample Q&A, and a panel discussion. The day's agenda, including sessions and speakers, can be found HERE.
Use the links below to download and/or view materials from this event:
Hypersomnia Foundation Top Resources
Follow the Hypersomnia Foundation on Social Media
Lumryz Informational Brochure (Avadel Pharmaceuticals)
I Have IH Campaign Survey Results (Hypersomnia Foundation and Jazz Pharmaceuticals)
IH Symptom Quiz and Idiopathic Hypersomnia Severity Scale (Jazz Pharmaceuticals)
Living with IH – What You Need to Know (Jazz Pharmaceuticals)
"Uncovering the Real-World Impact of Idiopathic Hypersomnia" – a video presentation by Marisa Whalen, PharmD, Medical Director of US Medical Affairs at Jazz Pharmaceuticals
"Clinical Study with KP1077 in Adults with Idiopathic Hypersomnia" – a video presentation by Dr. Rene Braeckman , Vice President of Clinical Development at Zevra Therapeutics and Christopher L. Drake, PhD, FAASM, Board-Certified Sleep Specialist, Professor of Medicine at the Michigan State College of Human Medicine, and Director of Sleep Research for Henry Ford Health.
Registration for #BeyondSleepySatellite: Together in Philadelphia is $20 per person. Coming with your family? Each additional family member is $5 per person. Virtual attendance registration is FREE.
For those traveling to Philadelphia, we have secured a room reservation block at the Delta Hotel by Marriott / Philadelphia Airport for $139 per night. Reserve your room today!
We look forward to getting #BeyondSleepy together in Philadelphia!